Shawl Patterns I Love August 2020 both Knit and Crochet
Today's blog post is a round up of Shawl Patterns I Love August 2020. I have seen some amazing shawls over the last month and wanted to share some with you. They are a mix of knit and crochet so there should be something to please everyone.
If you'd like to recommend your shawl faves, email me sales@woollymadlydeeply.com, message lor-artemis on Ravelry.com or contact me via Facebook or Instagram @woollymadlydeeply.
All the designer name links and images for the patterns link to the pattern page on Ravelry.com. If you can't use Rav at the moment, you have the designer name to search on the Indie Pattern Portal or Payhip.com
Aeria
I love the colours used in this shawl, the soft, muted rainbow works beautifully. The shawl uses short rows to create the leaf shapes and stems and is knitted from tip to tip, sideways. It uses sport weight yarn, but you could easily sub 4ply/fingering weight yarn in the right colours. You could go for a more subtle look with neutral colours or go for a high contrast option to really pop.
Odyssey Shawl
This is, unusually, a free pattern and I just love the colours Joji has chosen for her shawl, those rich greens really call to me. Beautiful colour blocking and it looks like a very relaxing knit. Knitted with DK weight yarn and 5mm needles for a soft drape, this is a large shawl for wrapping around and maximum comfort. Odyssey is a crescent shaped shawl in 3 colors of medium-weight yarn. Medium weight means DK, or worsted, or even Aran! The good news is that you knit it up super fast.
Each color section ends with a lace band that features striking big eyelets and wavy texture.
Nightshift
by Andrea Mowry
I do love this shawl and it's incredibly popular. It looks like a great option to bust some stash and have a lot of fun with colours. It's slip stitch colourwork, sometimes called Mosaic, so you only work with one colour at a time. It's triangle shaped and worked with DK/Worsted yarn.
Lost Souls Skull Shawl
by Maryetta Roy
I spotted this shawl and thought, oooh Crochet lace. How wrong was I? On closer inspection it's skull motifs and so clever. It is crocheted with Aran yarn and a 5mm hook, so this will be quick and fun. It would make a great addition to your Halloween costumes or the perfect gift for a teen going through their Goth phase. It's also free, did I mention that?
Perfect-Pockets Shawl
by Sonja Hood
Is it a shawl, is it a scarf? Do we care? No, because it's got POCKETS and we love our pockets. Crocheted with Aran weight yarn using 9mm and 10mm hooks this will be super fast and make a great gift for anyone who loves a Boho look or just likes to have pockets. For the clumsy among you, me included, I think I'd end up wrapped around the door handles within five minutes of wearing it, but I still like it.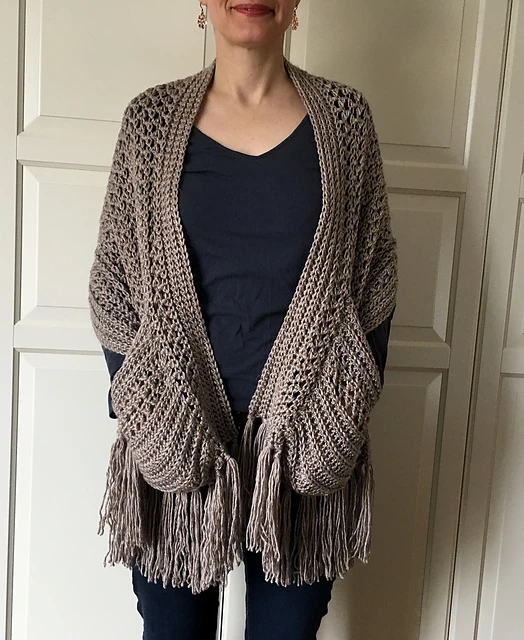 Igirigi
A fabulous crochet shawl for a fade set or gradient cake of yarn. I love the lacy details and strong design lines of this. It's crocheted with a Sheepjes Whirl and a 3.75mm hook, the gradient of the sample is lovely. There is a chart and it uses US crochet terminology.
The Air Up There Shawl
by Kate Harland
I love this photo, that smile, the colours, everything about it. It really drew me in to look at the pattern. The shawl is a shallow crescent shape and knitted with fingering/4ply weight yarn.
Sundial Ruffle Shawl
by Stephanie H.
I loved the colour of this crescent shaped shawl, it uses 4py/fingering weight yarn, gradient set or cake would be awesome. Crocheted with a 3.5mm hook and with such a pretty ruffle and lacy patterning. Love it.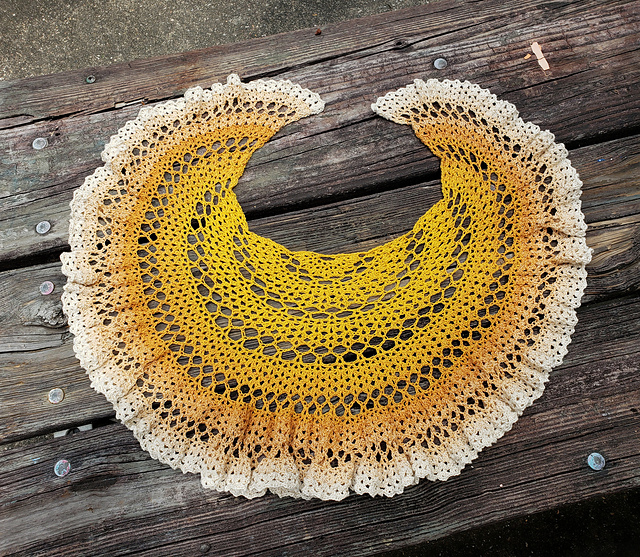 The Doodler
by Stephen West
A show-stopping garter stitch shawl from Stephen West. I love his wacky style and presentation, a true artist. His designs are always interesting, well explained and give you the opportunity to play with colour, texture and contast. A triumph.
Fleur
Another free pattern and the peachy, warm and light colours really spoke to me. I love the bobble details and the chance to mess around with yarn and leftovers if you wanted. Meditative knit stitch is interrupted by just four rows of bobbly texture to achieve a shawl that delivers high impact flare with minimal effort. La Bien Aimee Merino DK creates lovely drape while Cosy Posy Yarn Co. Fluff adds light, fuzzy contrast.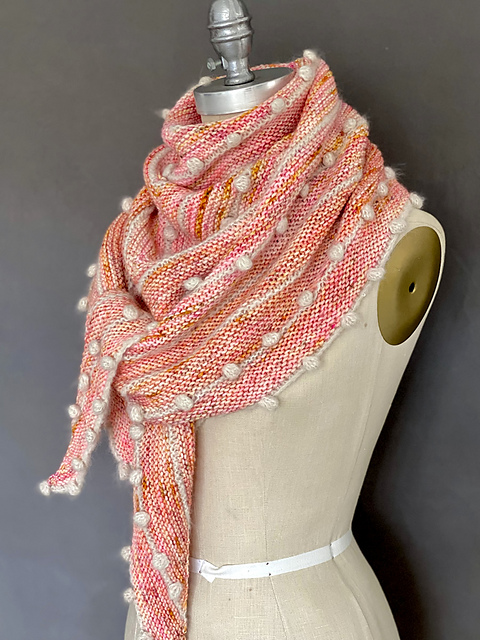 Falling blossoms shawl
by Ana D
This beautiful lacy shawl uses sock yarn, approx 450yds so more than the average skein but enough to use up leftovers or let you play with colour for the various sections. Crocheted with a 3.5mm hook it'll be light, airy and beautiful. The asymmetic shape appeals to be and makes for a fun shawl to wear and style.
Confundo
I absolutely love Barbara Benson and her patterns are fabulous. I do really want to knit this shawl which uses slip stitch mosaic knitting to create gorgeous colour patterns very, very easily. It's so easy, you'll think it's cheating. Worked in DK weight yarn, it'll be a quick knit and a fun way to bust some stash.
Loveland Shawl
by Toni Lipsey
I know, it looks like it's knitted but honestly, it's Tunisian crochet and I love, love, love it. DK yarn is crocheted with a 6.5mm hook to mimic knitting in all it's glory. I am blown away by this, who knew? It uses Tunisian Knit stitch and features video tutorials to show you the other stitches which create the lace effects. Genius.
Cowboys and Angels
Thanks goodness it's not Cowboys and Aliens which ranks high on the list of worst films ever. I was drawn to the colour of the shawl, which is perfect for me. But also, the lace and texture details. it is a fun knit, enough to keep you interested but not so taxing that you can't watch a bit of TV at the same time, just avoid anything with subtitles. Knitted with DK yarn and 4.5mm needles for a nice drape but not too much. I think the trellis stitch pattern combined with garter and bobbles is a winner for me.
Wild Sunset Shawl
I love the styling of this one, the beach, the neutral colour and dreamy lace. It's crocheted with DK yarn and a 4mm hook, it would look good in a gradient but I like the simplicity of one colour to show off the lace patterning. It's triangle shaped, worked bottom up to maximize the size and use of your yarn, you can go big or small on this one.
Briola
I couldn't look at shawls and not include a bit of brioche for you. This crescent shaped shawl uses four colours of yarn so perfect for a fancy set or busting some stash to get the colours that suit you. The design features stripes of lace with two colour brioche in between. It's a large shawl but worth the time involved. 4ply/fingering weight yarn on 3.5mm needles.
Hotel of Bees Shawl
A lovely honeycomb/bee themed shawl and a great way to use up stash. It uses sport weight yarn but fingering would do, 4.5mm and 5mm hooks for maximum drape and a light, airy fabric. The design is packed with fun stitches, is asymmetric, uses filet crochet, surface crochet, front post stitches, stripes and lots of texture. Gorgeous!
Cozy Winter
Cables, lace, aran weight yarn and knitted on 6mm needles for speed, airyness and amazing drape. Wow.
Puffalicious Shawl
Perfect for cakes, not that type of cake, Aran weight yarn cakes! It's charted and uses Aran yarn with a 5.5mm hook. I love the colours in the photo, the yellow really pops against that grey.
Cathedral Grove
This stunning shawl uses light sport or fingering/4ply yarn but you'll need two 100g skeins. Worked top down and flat with colourwork, lace, texture and stripes. Look at that border, it's fabulous
History of Trees Shawl
Greens, yellow, texture, trees and lots of fun. I really like this asymmetric shawl. Each section is inspired by trees, the pattern is charted and written. There are photo tutorials for the various stitch patterns and lots of help. It is crocheted with sport weight yarn and a 4mm hook
French Cancan
This little beauty takes a garter stitch knitted shawl to the next level with a knitted-on border added on. the cables and lace add interest and texture to the piece. It's a classic. DK yarn, 4.5mm needles make for a squishy, soft shawl.
Marina
The Marina Wrap is a light and airy shawl pattern that uses only one ball of Red Heart It's A Wrap Rainbow Yarn. The lacy stitches and gentle crescent shape of this shawl show off the yarn beautifully. UK knitters might want to try a DK weight yarn cake or something like Stylecraft Cabaret.
Modern Hygge Shawl
by Grace Akhrem
Using DK and Lace yarns held together, this soft, buttery shawl is sure to wrap you up warm and cozy. Grace used 4.5mm needles at a gauge/tension of 18×24 before blocking, so it will grow from that size.
I think that's enough from me today, I hope there was something to inspire you in this little collection. Let me know your favourite.
Loraine