Knitted Cardigan Patterns I love August 2020
Knitted Cardigan Patterns I love
A round of a few of my favourite cardigans on Ravelry for August 2020.
Cardiflower
This piece is knit almost seamlessly from the top down though it does have some cute pockets. You could opt to remove the pockets for an entirely seamless sweater. But if you do choose to add the pockets, you could have a lot of fun with a contrast lining that peeks out from behind the lace detail in front.
Cardiflower is a pretty and quick knit option, with cropped sleeves and a slightly cropped body, perfect for layering. It has gentle A line shaping for a little extra movement and those of us with wider hips than our bust line. Size 33″ to 67″ chest/bust.
Siena
Embrace minimalism with Siena, a lightweight cardigan with dolman sleeves. Airy construction pairs with an iconic silhouette for a quick-to-knit sweater you'll want to wear every day. The cardigan uses DK weight yarn and my only negative is that sizing stops at 48″ chest/bust, so larger ladies will miss out or have to adapt the pattern to fit them.
Bishops Park
The cabled lace front and collar of Bishops Park is completely reversible. For the sweater's this means two things according to the designer and in her own words:
1) There is no unfortunate backside you need to try and hide–no need to carefully fold so that the collar lays just right in order to hide any part of the wrong side.
2) There isn't a true wrong side. You decide which side you would like facing out. Knit side? Purl side? It doesn't matter–It's a no fuss garment.
Sized 33″ to 60″ chest/bust.
November Cardi
by Jenise Hope
This one is fingering/4ply weight, but has the little details that are often missed in a loose or wrap cardigan, such as actual waist shaping, a good sleeve shape that will suit ample arms and slim arms. I really like this one, the thought of using 2mm needles has me fainting, but I'd probably use a 3.5mm needle and work a different size depending on my gauge/tension. It's sized at the hip measurement, not the bust/chest and the range is from 30″ to 54″.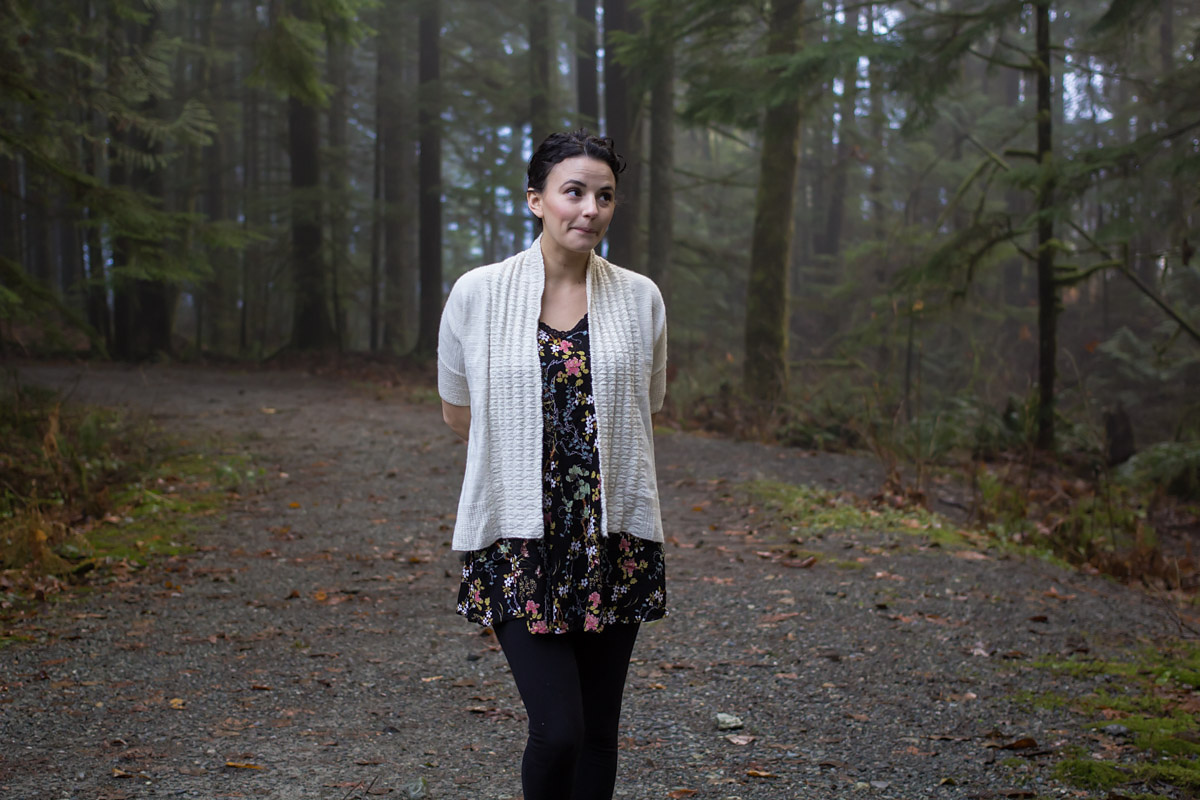 Nezinscot Cardigan
The collection wouldn't be complete without a design from Alicia Plummer, it was hard to choose as I am knitting a Campside Cardi at the moment, but I went for Nezinscott, which looks like a fun knit. Worked top down with pretty slipped stitch colourwork details and sized from 34″ to 51″ bust/chest. I'm sure Alicia will add sizes to this as she works through her range to make them more size-inclusive, so keep an eye out.
Nidden
This one is worsted weight, in a cotton/linen/flax blend, very pretty lace details and light for Summer/Autumn. Sized from 16″ to 28″ back width (measured at the bustline). It's worked bottom up, the fronts then form the collar joining at the back neck and are also the top of the back part of the cardigan. It's clever and I'd love to knit this.
Ballou
I do love a fingering/4ply weight cardigan knitting with larger needles, it uses very little yarn in terms of weight but gives a fabulous drape to the fabric. It's worked top down without buttons so no faffing about afterwards as it's designed to be worn open. Sized from 27.5″ to 48.5″ bust/chest. Some have added decorative buttons which is a nice touch, but they are just for show.
Leaflet
I knitted this in some purple Araucania Nature Wool and I absolutely love it. I did, however, make long sleeves for mine. Sized in 31″ to 51″ bust/chest but very easy to adapt as it's a basic raglan shape.
Vitamin D
I like the waterfall front on this one, but ladies with larger busts, do try on something similar before making to ensure the waterfall doesn't accentuate your bust if you're someone who wants to minimize it. It's a very easy knit, great pattern and so pretty. Sized from 31 to 51″ bust/chest but it's open front and if the back fits you, you're golden.
French Kiss
This one is fingering weight/4ply and sized from 34″ to 46″ bust/chest. Very pretty front details which gives some flexibility and great to cover a larger bust, choose a size to fit your back, as the gathers at the front shoulders are very flattering.
Katie Did Cardigan
by Afifa
This one is worsted weight but looks light and airy, it's sized 42″ to 54″ bust/chest. It features a dramatic peaked hem and a lacy border, you'll stop traffic in this one.
Snoqualmie
by Michele Wang
Bulky yarn, squishy cables and oversized. I've made this and then lost weight so mine is enormouse, but I will reknit in a smaller size because I loved it so much. Sized 39″ to 54″ approx and worn oversized, I'd make either the smallest or second size next time as I like a slimmer fit. The cables are amazing and the pattern very well written.
Norrland
by Laura Chau
Worsted/DK weight, sized from 34″ to 59″ chest/bust and I love the fronts overlapping and the delicious cable pattern on the fronts and sleeves. Laura looks amazing in this colour.
Freeport Cardigan
Sized from 32″ to 50″ bust/chest, this pretty cardigan has neat cables and a large collar. It's worked bottom up in Worsted/DK weight yarn.
Wrekin
by Nidhi Kansal
Another beauty from Nidhi, I love this cardigan, pretty details and such a classic. It's knitted with sport weight yarn with 0-2″ of ease. Sized from 28-54″ bust. There are some short rows and cables but most of the body is an easy relaxing knit.
I hope you like this latest round up of some of my many, many favourites and find something that you love as much as I do. I'll be doing a round of up of some of my crochet favourites tomorrow, so do have a look.
Loraine