Indie Design Gift Along 2020 Knit Christmas Ideas
Indie Design Gift Along 2020 Knit Christmas Ideas
A quick round up of my favourite Indie Gift Along 2020 Knit Christmas ideas and suggestions for gift knitting, knitting for your home and for heirlooms to display every year.
A fun and easy mosaic knit, part of a set of four stockings.
by Amy Marie
A bit more mosaic and I love the tree design, perfect to gift with a beautiful soap or other toiletries.
by Stacey Lewis
Part 2 of several sets of baubles, all beautiful and sure to be much loved.
Fabulous colour work and great for using up scraps of yarn
by Vikki Bird
A beautiful stocking to make for someone you love and use year after year.
by Cynthia Levy
Such a popular pattern for Christmas baubles, we see this a lot in the Gift Along.
by Sarah Schira
Oh Gnome they've even invaded the blog….
by Kelly G.
Lovely sachet ornaments you can stuff with lavender or other christmas scents.
Size to fit a 2, 4 or 6-8 cup teapot.
Another fabulous bit of colourwork and lace from Michael.
These are too cute for words.
Denise has some gorgeous stockings but I love the simplicity of two colours and non-traditional colours to match your decor.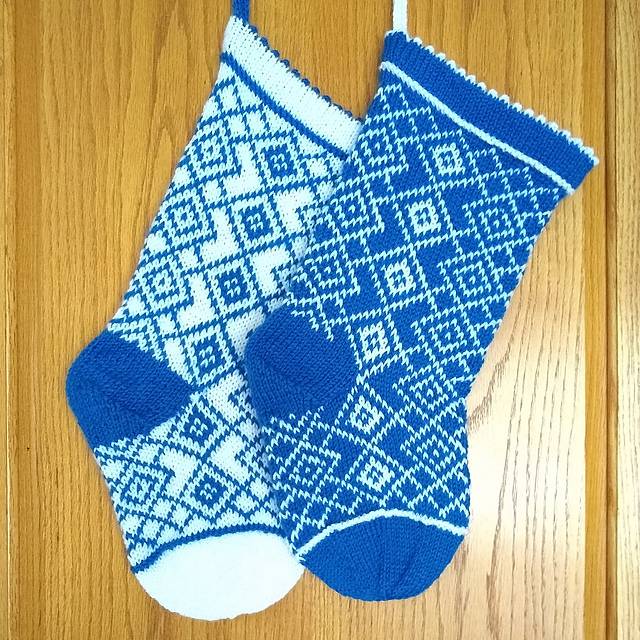 Christelle is a fabulous designer and I love this cowl, so pretty, festive and most of all fun.
I love the colour work in this design, so detailed and rich.
Mug cozies with a little hood on the back large enough to hold biscuits, cookies or chocolate.
by Claire Slade
Ranee has an amazing set of decorations, do check them out, it was hard to choose one but this is my favourite.
by Mary E Rose
Adorable and a fun knit with clever details.
I've knitted these, super fast and lovely, but within seconds my Mum had pinched them.
by K.M. Bedigan
a lovely stocking pattern with traditional motifs.
I want to fill my tree with the little house decorations, but they're all so cute.
by Emma Sadler
Traditional colour with a fun twist, knit the set or just your favourite.
a fast and festive knit using worsted or dk yarn, really cute.
by Jo Torr