Indie Design Gift Along 2020 Fave Headband Patterns
Today on the blog I'm showing Indie Design Gift Along 2020 Fave Headband Patterns. I'll try and include a range of knit and crochet, knit first, crochet fans scroll down a bit or click this link to jump straight to the crochet goodness.
Indie Design Gift Along 2020 Fave Headband Patterns – Knit Headbands
Knitted in sport weight yarn, this wave patterned headband is sizes from baby/toddler to adults. Make it in several colours or neutrals to match your outfits.
This bulky knit is a quick gift option and again, sized from baby to adult, it'll work up fast on larger needles if you're in a rush.
Knitted with DK Yarn and featuring a beautiful cable pattern with a garter border, this will be a lovely gift knit to make for a teen in their favourite colour.
This beautiful brioche headband features a pretty pattern and would be a good starter project for two colour brioche.
by Emma Sadler
A very fast gift knit using super bulky yarn and 10mm needles, it'll fly off your needles and into the gift wrap before you know it.
Knitted with fingering weight yarn, this would be an ideal slow and relaxing project rather than a quick gift, but what a wonderful way to use up speckled or highly patterned yarns in colours you love.
by Loli Fox
Knitted with Aran weight yarn, it'll certainly turn heads and WOW!
This headband is designed for long-haired ponytail wearers. Now as well as having the option of ponytail over or ponytail under, you can choose ponytail through! 
Pretty mosaic colourwork (easy peasy and such fun) adorn this headband, how can you resist?
Indie Design Gift Along 2020 Fave Headband Patterns – Crochet Headbands
Crocheted in a bulky yarn and a very quick project, I love the bobble details and the feature button. A great stashbuster, last minute gift and fun for teens.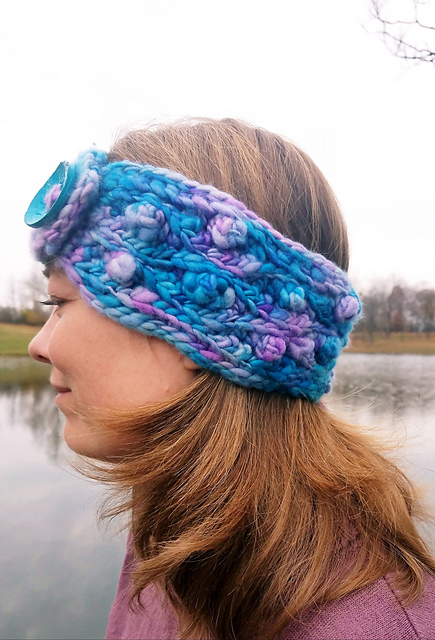 by Akua Lezli Hope AkuaDesigns
Crocheted in worsted weight, easy to size to fit your head and with a stunning flower embellishment to match your winter coat or outfit
by Akua Lezli Hope AkuaDesigns
Crocheted with a strand of fingering/4ply and dk weight held together, to give an interesting marl effect, or even add a bit of sparkle for some unexpected bling.
by Ms. Mal
Okay, you got me, it's a crown, not a headband. Perfect for your little princess or when the Diva in you needs to show herself.
One skein of Lion Brand Scarfie makes this crocheted cowl and headband set! Both pieces are made using hdc through back-loop-only for thickness with drape – soft, warm, cozy and quick to crochet.
The headband is folded under at top and bottom edges for extra warmth and to allow insertion of elastic bands for a guaranteed fit even after many wearings.
Both items can be made for smaller sizes to fit a child – instructions are easily adapted to the size you wish.
This pattern was designed to form functional and stylish. The textured cluster stitches provide depth and extra warmth, while the relatively simple construction make it beginner friendly. Sized toddler to adult.
Crocheted with Aran weight.
by Rachel Beth
9 sizes are included, from premie to adult. The headband is approximately 1" wide. The butterfly is approximately 2 ½" wide.
by Ruth Brasch
This headband is the perfect accessory to help keep your hair out of your eyes while you're on a summer adventure!
It's size adjustable, so it will work for all ages
All the above patterns are eligible to be made in the Indie Design Gift Along 2020 with lots of prizes, chat and fun. Join the group here and dive right in. You can also play along on Instagram and follow @indiegiftalong.