Today's round up of Indie Design Gift Along 2020 a Crochet Christmas, includes tree ornaments, gifts, cloths, table centres, coasters, amigurumi and so much to look at.
Indie Design Gift Along 2020 A Crochet Christmas – Tree decorations and ornaments
The called it "Not a Christmas" because Christmas is not here right now, and also because not everyone celebrates it. But nice crochet decorations will add a festive touch to every home. And "mystery" means you will not know what will be coming next week. The CAL will run for 4 weeks with a new pattern coming out every Friday. So in total we will make four decorations (or presents).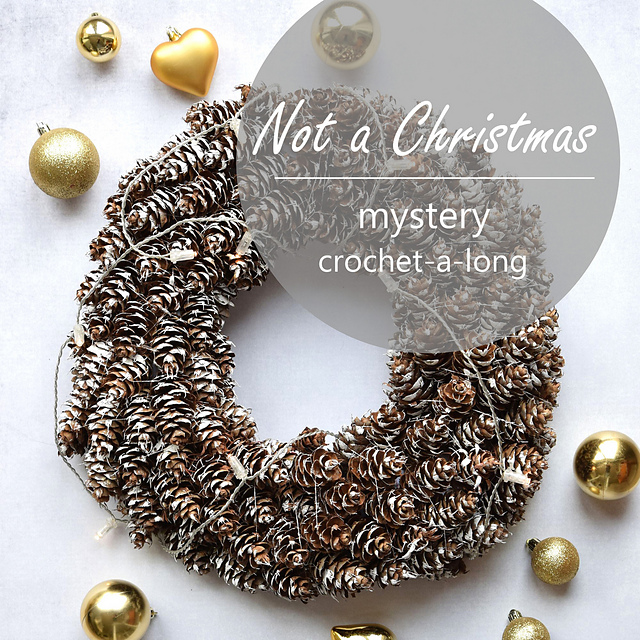 This pretty, delicate snowflake will make a beautiful accent to your Christmas tree or any holiday decor! 
Snefnug means snowflake and what a pretty ornament for any celebration during the Winter.
Christmas baubles
by Caitie Moore (Thoresby Cottage)
These cute crochet baubles would be a fun scrap busting project and you can make them to match the decor of your tree.
Sizes availableNutcracker: 3.14 inches (8 cm) Gnome: 3.74 inches (9.5 cm) Gingerbread man: 2.75 inches (7 cm) Mouse: 3.54 inches (9.0 cm)
The 2nd Day of the 12 days of Christmas – 2019 Yarnish Christmas CAL. Available as an individual purchase or as part of the 12 pattern ebook collection
You could make this adorable crochet garland as a gift for a loved one, something they'll treasure for years and is made with love.
by Akua Lezli Hope AkuaDesigns
These are small, compact trees and as such, details make the difference. While initially conceived of as ornaments for light trees, they may serve as bookmarks, appliqués or embellishments, and be small toys if two are made sewn together and stuffed lightly.
This adorable crochet bauble is a quick make and in high contrast colours is a real statement addition to your holiday decor.
Lots of pretty details to this star ornament, all explained with tutorials and photos, adorable.
by Rachy Newin
A fun decoration for your tree and quick to crochet.
Indie Design Gift Along 2020 A Crochet Christmas – Tableware and mats
The Christmas 2017 Mandala was originally published as a CAL over the Christmas season 2017 but would make a lovely centre piece for your holiday table.
Crystal Coaster or Christmas Motif
A pretty coaster, tree decoration or just a little mat for on the table.
by Lilia Vanini
A stunning pot holder and what a beautiful gift for someone special.
Super cute, this little tree is so pretty
Indie Design Gift Along 2020 A Crochet Christmas – Wreaths
by Caitie Moore (Thoresby Cottage)
I only found one full size wreath in the Gift Along this year but these tiny gift tags are so cute I had to show you them.
Indie Design Gift Along 2020 A Crochet Christmas – Nativity
A crochet nativity and so sweet, I love the little details on this set.
Indie Design Gift Along 2020 A Crochet Christmas – Gifts
This pattern includes 3 designs of washcloth which were designed for the 2020 Advent CAL. They are quick projects and ideal for last minute gifting.
Darleen has a beautiful range of baby bibs but this is my favourite, well right now, tomorrow it could be Santa.
Love, love, love this cute little reindeer
Adorable animals asleep in the stockings, who could resist?
I lovely take on the traditional stocking made with granny squares.
i know one of the GAL designers is making this for a relative who just moved home, isn't it a great gift?
by Lilia Vanini
Love the bright, festive colours in this little baby hat and bootie set.
Crochet peeps, the gnomes have finally caught up with you!
by Ms. Mal
A cute gift, easy to crochet and always handy
Who doesn't want a spa break right now after 2020? Love the delicate colours of this set.