Beginner Patterns, Knit – Indie Design Gift Along 2018
I'm sorry I've not blogged for a few days, it's a busy time of year for my day job and I've also been helping out with the Gift Along (as I do every year).     I'll catch up a bit today with two posts crammed with goodies and ideas and a few discounts and offers I saw along the way.    I'll also show you a super little gift I bought for myself and one for a very good friend and I think is awesome.   I'm not affiliated with the company and I don't get commission, I just loved the product and wanted to share it.
Today I wanted to focus on some beginner patterns in the Indie Design Gift Along, a pattern where a total newbie can have a go and create a finished item pretty easily or where a more experienced knitter can learn a technique or skill that's new to them.     Part 1 is Knit and Part 2 is crochet.
First Up is an offer I saw when browsing beginner patterns in the Giant Bundle of Gift Along Patterns.
If you buy this one and add the Bead Drop Scarf and the Garter Eyes Cowl to your cart at the same time, you'll only pay for Ma Cherie.     I'm not on commission, I just thought it was a great deal for anyone wanting to try beads on a knitted project and learn a little bit of lace knitting while getting two patterns for free.
A good introduction to sock knitting using thicker yarn and larger needles to get you started and give an understanding of sock anatomy and all the common terms used in sock patterns.   Handknit socks are the best and you can learn quickly to customise for fit and comfort.
A lovely introduction to cables, working a piece flat and changing to working in the round, it's soft, warm and super smooshy.     A really great starter pattern if you've never worked in the round before.   It's not scary and it'll open up a whole new world of knitting to you.
Worked in the round, a little bit of simple embroidery for the stars but what a gorgeous pair of boot cuffs you'll have at the end.
Beginner's Cabled Fingerless Mittens
This one encourages you to make the teeny size, ideal for a Christmas decoration or on a key ring, a great intro to socks for everyone.
An easy, boxy sweater with some nice finishing touches, so you can learn icord finishing, afterthought pockets – all optional and have a sweater that's a relaxing, fun knit.
A simple and classic hat, with ribbing, an easy introduction to shaping a hat and one that both you and your super fussy MAN will wear.
There is a youtube video tutorial to go along with this beginner shawl pattern, absolutely brilliant for someone starting to knit and who wants to make a pretty shawl for themselves or a gift.
A great beginner pattern suitable for a range of yarn weights/thicknesses.
The star starts as a pentagon worked in the round for the center. Then each of the five points is worked individually back and forth.
This simple cowl pattern can be knitted at virtually any gauge, with any yarn. The stitch pattern is an easy mix of knits and purls, nearly identical on right and wrong sides, which produces a textured fabric that is suitable for both men and women.      It is knitted in the round, in one piece with no seaming.
A cute slip stitch pattern creates a fabulous and complex looking mitten with beads, when actually it's all simple techniques, well explained with a photo tutorial and you get to take all the credit for it 🙂
Great little stash buster using tiny amounts of yarn and makes a great gift or stocking filler for kids.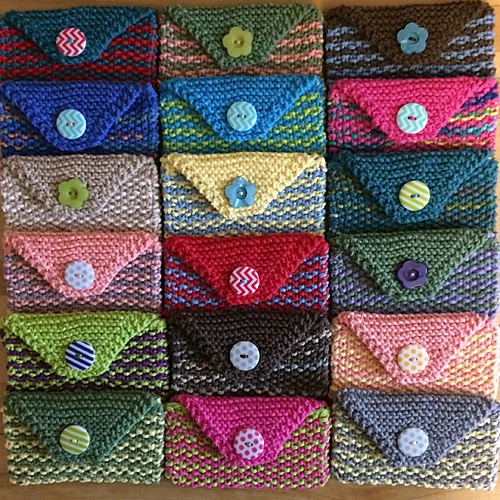 Simple knit and purl combination creates a great checkboard effect suitable for men and women.  A very easy knit and the chance to add some buttons from your vintage stash is an added bonus.
Last of all, I wanted to show you this product, from Fobbles, it's called
Stash n' Store
and I've been sticking my scissors, tapestry needles, cable needles, crochet hooks and stitch markers in mine since it arrived.   I've never been so organised.    Bev is closed until the New Year, so this'd be an ideal New Year treat for yourself.
Part 2 will be along later today with Beginner and New to You Crochet Patterns.